The Inn Keeper's Diary
Autumn in the Mountains
One of the great delights of living in Blackheath, situated as it is at over 1,000 metres in the upper Blue Mountains, is that it has four very distinctive seasons and you only have to look at the trees to instantly know what time of year it is and autumn is definitely one of the most spectacular times of the year to visit this area.   For example this is Wentworth Avenue which leads into the main street and commercial the hub of the village but its only one of dozens of other streetscapes worthy of quiet contemplation as you stroll along its many pathways.
Autumn is also a great time to have a game of golf at the local Blackheath Golf Club the highest and most beautiful golf course in the Blue Mountains or indulge yourself in one of the many bush walks in the area such as The Grand Canyon walk.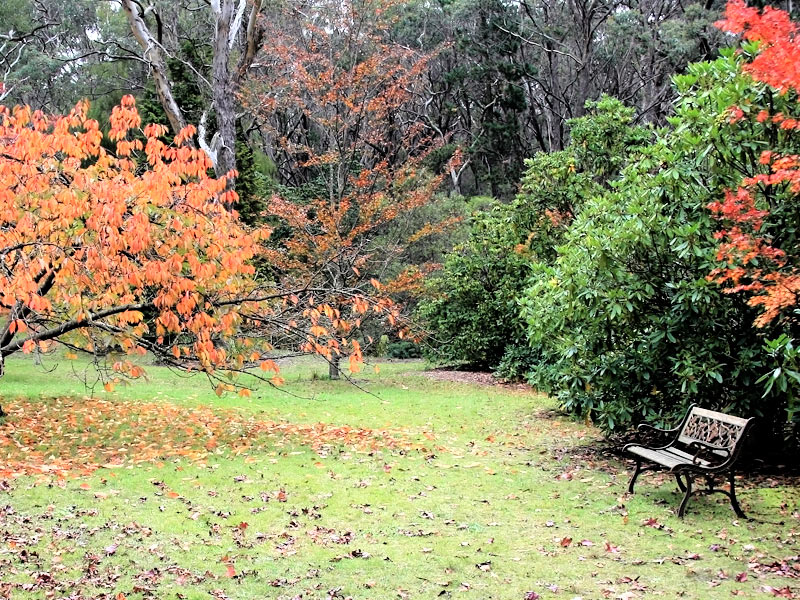 Or if you would just like to relax and take it easy then you are spoilt for choice with at least a dozen cafes, bakeries and restaurants within a short walk of each other not to mention art galleries, antique shops and the famous Glebe Books outlet. You could of course just sit quietly on the back veranda of the Gardners Inn and enjoy a pleasant drink and an excellent pub lunch while soaking up our country hospitality.
Anzac Day 2016
Thousands of people will attend Anzac Day ceremonies and marches across the Blue Mountains to honour the sacrifice of our servicemen and women. The Dawn Service in Blackheath will be held at the War Memorial Park just a 5 minute walk up the highway from the Gardners Inn at 6am followed by the Memorial Service at the same location at 10.50am.
"Two-up" is a uniquely Australian gambling game and is traditionally played on Anzac Day after the formal ceremonies are concluded. The Gardners will be honouring this long established practice with a lively session of "two up" held in our spacious dining room fully catered for with food and drink.
The Capertee Valley
Only an hour's drive down the road from the Gardners is one of NSW's best kept secrets, the Capertee Valley which contains the second largest canyon in the world. Sandstone cliffs dominate the escarpment, drawing down into a deep chasm carved into the environment over millions of years.
There is a helicopter sightseeing service available for a once in a life time experience and we can arrange a booking for our house guests as required.
The Inn Keepers Diary
I will be keeping my diary updated on a regular basis with tourist information about local events and activities plus suggestions how best to enjoy and explore this unique World Heritage-listed Blue Mountains National Park and its surrounding country side.
Why not come up and visit us real soon, Regards the Inn Keeper.